Bombazo in the Bronx!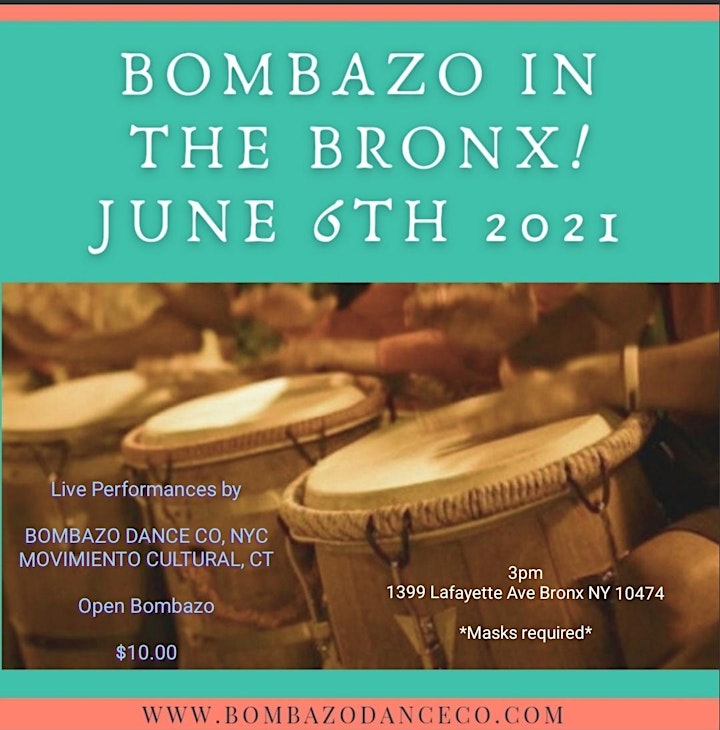 Join us Sunday June 6th, 2021 at 3pm for Bombazo in The Bronx!!! This year we are excited to return, safely, together in community to dance, drum,sing and most importantly heal!
Enjoy Bomba performances by Movimiento Cultural, bomba music ensemble from Connecticut lead by Kevin Diaz, Bomba Ashe lead by Roberto and Gloria Cepeda along with special guest Miguel Quijano and Jose Archeval joining Bombazo Dance Co in a special Bomba/Cocobale presentation. The event will also have a community dance class as well as an open Bombazo!
Bring your drum, maraca, cua, and bomba Skirt!!!
Open to ALL Ages!!! * Family Event* Evento Familiar*
COVID GUIDELINES:
Wearing face Masks or face shield is ***Required*** We understand government are relaxing restrictions, but we still need to be cautious and prevent the spread of Covid-19.
Temperature checks will be taken upon entering our communal space.
Fee: $10.00 Funds collected go to support our free programming through out the year both virtual and in person.
Let's support each other, let's lift each other, let's heal as a community and
LET'S MAKE THAT DRUM TALK!®